We all know that our economy and our society is evolving rapidly through data collection and advanced analytics, yet we are surprised by news each day of another business area adopting advanced techniques. Within the world of finance, credit unions are beginning this same evolution.
We might think "even credit unions" are changing, but with thousands of credit unions and a naturally more collaborative environment, groups of credit unions are combining resources to deploy advanced analytics. Although this will happen naturally, the proposed CECL accounting rules for loan loss reserves will cause a dramatic shift in the use of data and analytics at credit unions, comparable to the changes occurring at larger banks due to CCAR and DFAST.
In
Preparing for CECL
I discussed what will be needed to estimate the numbers needed for CECL.
Vintage analysis, macroeconomic factors, and credit quality adjustments will all be key components. I believe that those who designed CECL asked for all the right things, but did not realize the effort and investment required to comply. The goal of my talk was to highlight that CECL is an investment, not a cost, because if done right, the insights gained will directly impact pricing and underwriting, portfolio management, and risk appetite assessment.
I'd like to share the slides from the presentation with you, and feel free to reach out with thoughts.
Download the pdf here:
Preparing for the CECL
One graph from the presentation highlights that loss forecasting is more than scores. FICO / Bureau scores measure historically observed consumer risk, not the risk after the consumer is given a new loan. The graph here shows that scores were largely unchanged throughout the last recession.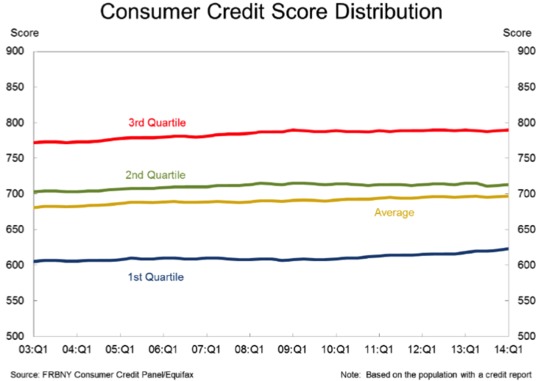 Latest Conference...
In October, I spoke again at the 2nd Annual
Credit Union Big Data and Analytics Conference
in Minneapolis, hosted by OnApproach. The theme was again about how the credit union industry is being changed by data and analytics. However, we need to be careful in how we apply data mining techniques to lending data. Consumer loans have a strong underlying structure represented by the default lifecycle (aka loss timing function). If we simply drop all of our lending data into a data mining engine, the dominant structures diffuse through many coincidental effects and our ability to forecast is degraded.
The following graph from the presentation shows how the default lifecycle (loss-timing) effect can create dramatic swings in delinquency rates before we ever get to data mining. We will make fascinating discoveries from the data being gathered today, but we'll have to use data mining techniques much more carefully than the blunt force in practice so far.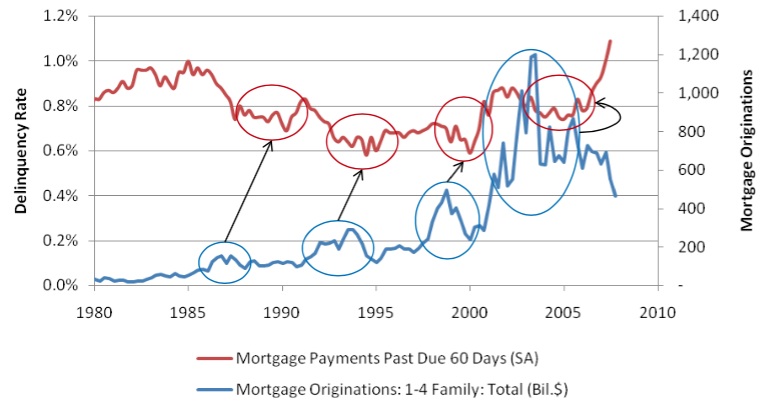 We're glad to share with you the slides from my presentation,
Predictive Analytics for Retail Lending
.
Download the pdf here:
Predictive Analytics for Retail Lending
Feel free to
email us
(Joe Breeded at Deep Future Analytics) with your thoughts on the topics from the presentations- we love to hear from the community.
Here's to a great 2016,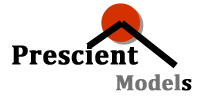 Joe Breeden
CEO
About Deep Future Analytics & Prescient Models
Deep Future Analytics is a CUSO owned by Denali Alaskan FCU and Prescient Models, LLC. Denali Alaskan Federal Credit Union is the third largest credit union in Alaska, with more than 60,000 members and assets in excess of $500 million. The credit union's 20 branches are located in Alaskan cities including Anchorage, Eagle River, Fairbanks, Juneau, Kenai and Wasilla and in Kent, Washington as well.
Santa Fe, New Mexico based Prescient Models, LLC was founded by Dr. Joseph Breeden to expand the adoption of best-in-class models across many application areas. Dr. Breeden has almost 20 years of experience in financial services. He has created models through the 1995 Mexican Peso Crisis, the 1997 Asian Economic Crisis, the 2001 Global Recession, the 2003 Hong Kong SARS Recession, and the 2007-2009 US Mortgage Crisis and Global Financial Crisis.